Hello Honestly YA readers! We're pleased to welcome a great guest, Annie Rachel Cole who's not only got a few words of wisdom to share, but she's also got a great giveaway of her book HOW NOT TO TRAIN A ZOMBIE. But before we get to the sweet free book, Annie's got a thing or two to say about skipping the book to watch the movie version...
"Hey, did you hear?" asked Susie.
"Hear what?" Cynthia asked as she looked up from her science homework.
"That book I just finished reading is being made into a movie."
"Cool! Now I won't have to read the book," said Cynthia. A huge grin spread across her face.
How many times have you thought about just watching the movie instead of reading the book you were supposed to read for class or for fun? Go ahead. Raise your hand. Come on. I know there are more of you than that.
Unfortunately, there is a difference between the book and its movie counterpart. Books are not written for the movie screen, so that makes for a very real challenge when it comes to turning the book into a movie.
FreeDigitalPhotos.net.
Time constraints are a huge challenge. The director makes changes to the story or he/she leaves out material from the book in order to fit into a specific time frame. After reading a book, you go to the movie only to find the movie is nothing like the book. The director changed the ending, he/she changed the characters, the setting…it goes on and on. Other times you realize the movie is missing stuff from the book. Because of time constraints, the director tries to capture the essence of the book or he/she's trying to get you to feel a certain way about a character, which means scenes and even characters get cut.
FreeDigitalPhotos.net.
Also, when you read, you create a movie in your head. You use your imagination. You have expectations as to how the characters look and sound, what they wear, etc. When you watch a movie, you're looking at someone else's interpretation of the characters, and more often than not, the movie version doesn't fit your expectations. Directors pick who they think will fit the part, and if the actor has played in another role, we tend to typecast that person, making it hard to accept them in the new role. And the result is? A huge disappointment.
Movies are a great way to get people interested in books, but don't forget to read the book. If you just watch the movie, you miss a lot of the story and in some cases, the entire story.
~Annie Rachel Cole
Annie Rachel Cole lives in Texas with her husband, son, and two cats who think they run the place. She reads, writes, plays Texas Hold'em poker (she's actually part of a local league), and occasionally competes in BBQ competitions with her husband. She also teaches in a public school.
And now for the giveaway! We've got a signed copy of HOW NOT TO TRAIN A ZOMBIE for one lucky reader!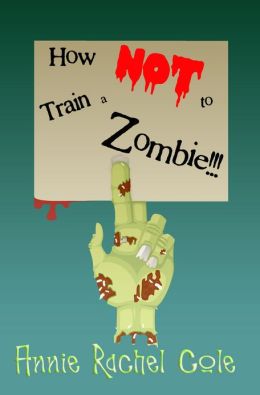 How does a thirteen-year old become the most popular kid in 8th grade?

He trains a zombie to be a pet...




And that's exactly what Max Taylor plans to do, even if he has to lie, steal, and lose his best friend in the process.
Fill in the Rafflecopter form below to enter the giveaway. Good luck!
a Rafflecopter giveaway