Happy Friday Everyone! It's the end of the workweek so you know what that means--we've got an awesome giveaway for our beloved readers. In fact, we've got TWO awesome giveaways this week, two digital copies of

ATLANTIS RIPTIDE

a great new YA by Allie Burton. But before we get to givin' Allie's got a great story to share about the Worst Advice she ever received. Take it away, Allie!
The Sure Thing
Thanks to Lea Nolan and the rest of the writers at Honestly YA for hosting!
The worst advice I ever received was to go for the guaranteed outcome or Sure Thing. At times I followed this advice and at other times I threw caution to the wind and went for what I wanted. The thing that was unattainable, difficult to get, or unusual and exciting.
The Saturday Night Date Sure Thing: I had a long-term steady boyfriend in high school. I loved him but knew we wouldn't stay together and get married. There were too many things I wanted to do in life. My friends thought I was nuts. I had a guaranteed date every Saturday night, a date for Homecoming and Prom. I had a Sure Thing, why mess it up?
Well, first because I ended up breaking his heart. Second, because I missed out on experiences other girls had including flirting at parties, the excitement of waiting for a guy's call, and eventual heartbreak.
The Summer Job Sure Thing: I come from a large family with two brothers and three sisters. All of my sisters worked at a local deli. It was a good job and paid well. Getting a position there was a Sure Thing for me. And I took the job.
But I wanted more. I wanted different. I wanted exciting. So, I applied to the local police department to be a bike cop. There were only six positions. And guess what, I got one of them. I spent the summer outside, riding my bike forty hours a week. Best summer ever! And I was in the best shape ever!
The If-You-Don't-Try-You-Won't-Be-Disappointed Sure Thing: My brothers were athletes. My older sisters not so much. The Sure Thing was to keep my part-time job at the deli instead of quitting to try-out for the tennis team. I had no real practice or training. No lessons.
But I wanted to be part of a team in high school. So, I worked my butt off the summer before sophomore year and tried out for the team. I didn't make it. The next summer, I worked harder and went to summer practice with the team. I made the JV team my junior year. By senior year, I was the first doubles team, but still on JV. I never got my Varsity letter but I did take a chance and I did make a team. And great friends in the process.
The College Choice Sure Thing: My parents couldn't afford to pay for college so I went to the local community college my first year. I was majoring in Fashion Design with the intent to design costumes for the stage. The courses were a good foundation but none of these people were going anywhere.
So, I put together a portfolio and applied to art school to study costuming. Now, I'm not a good artist but I was accepted and attended for a year. I decided this wasn't for me either. I should've done the Sure Thing and lived at home while deciding what to do with my life.
But, I took another huge risk and moved to California. I got a job at a deli (see the earlier Sure Thing paid off by helping me to get this job), and went back to school. Two months before I could move into the residence hall I had to leave my apartment, so I found a way to camp in the state parks for the summer. (This is where I got the idea for my character Pearl in

ATLANTIS RIPTIDE

to live in a campground. I'd done all the research when I was in college.)
All big risks—not a single Sure Thing. If I hadn't taken those risks I never would've met my husband and decided I wanted to be a writer.
Which brings me to my last Sure Thing.
The Career Choice Sure Thing: I wanted to be a writer, but the chances of being successful were slim and I had rent and bills to pay. So, I did the Sure Thing and graduated with a degree in advertising and public relations. I had a great career in that field and I enjoyed it, for the most part.
But there were always stories inside my head. Characters who wanted to come out and play. Plots with twists even I didn't see coming.
So, now I'm a writer. My first book releases next week. I don't know if my stories will sell or if I'll be successful. It's a risk. But it's exciting, and a little scary. And it's not a Sure Thing.
What was the Sure Thing you gave up and are you glad you did?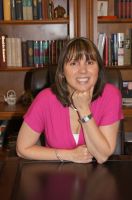 Allie Burton didn't realize having so many jobs would become great research material for the stories she writes. She has been everything from a fitting room attendant to a bike police officer to a professional mascot escort. She has lived on three continents and in four states and has studied art, fashion design, marine biology, and advertising.
When her kids asked, "when are you going to write a story we can read?" she switched from adult novels to Young Adult and Middle Grade and hasn't looked back.
Allie is a member of the Society of Children's Book Writers & Illustrators, Romance Writers of America including the Young Adult, Dallas Area Romance Writers and Heart of the Rockies chapters. She is also a member of Rocky Mountain Fiction Writers. Currently, she lives in Colorado with her husband and two children. Find out more at her website, follow her on Twitter, or on Facebook.
Atlantis Riptide
Lost Daughters of Atlantis Book 1
Sixteen-year-old Pearl Poseidon ran away

from

the circus tired of her adoptive parents' abuse of her special skills. As a runaway, she craves anonymity but when she saves a small boy from drowning she draws attention to herself and her special abilities. Boardwalk employee and aspiring

investigative reporter, Chase Thomas, helps her with the rescue and witnesses her amazing dive.
Now, he has questions. And so do the police.
Unbeknownst to Pearl, a battle rages under the Pacific between Loyal and Non-Loyal Atlantean forces and each side wants to use her powers for their cause. Will the commotion in the ocean expose her secrets to the world? Will Chase's reporter-determination ruin their chance for a real relationship? Will staying near the ocean she loves catapult into a battle royale?
a Rafflecopter giveaway