Hey everyone! I went to the RT Booklovers Convention last week and brought back some goodies to share throughout the next few months. If you haven't been, RT is a giant, super-book-fan conference with tons of authors, bloggers, readers, agents and editors. It's a blast. And there's parties, signings, and lots of great opportunities to snag swag and free books! Believe me, I cleaned up. Rather than lug it all home, I sent myself a twenty-seven pound box of YA awesomeness which just showed up on my doorstep.
I'm super excited about our first RT Swagolicious giveaway, BORN OF ILLUSION by our friend Teri Brown. Teri's visited us before when we featured two of her New Adults books, SUMMERSET ABBEY and A BLOOM IN WINTER which she wrote under the name TJ Brown.
I got to hang out with Teri and even have lunch with her. In a word, she's awesome! And awesomer still, she gave us some exclusive swag just for our Honestly YA readers. Not only do we have a signed advance readers copy of her upcoming YA release, BORN OF ILLUSION, but we've also got a complete set of the BORN OF ILLUSION Eye Shadow collection. These are extremely cool, customized eye shadows created by a make up artist specifically to go with the 1920's theme of the book.
How great is that? To enter, we've got a Rafflecopter form below, but before we get to that, let's take a look at BORN OF ILLUSION: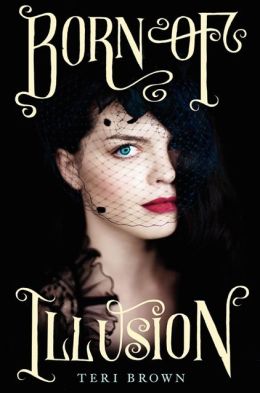 Teri Brown's YA novel Born of Illusion launches a thrilling new series laced with romance and magic. Each book is linked to a real-life secret society founded in 1862 by Charles Dickens, Arthur Conan Doyle, and others to study paranormal mysteries.
The first book introduces Anna Van Housen, a young woman living in Jazz Age New York, who may be the illegitimate daughter of the greatest magician who ever lived—Harry Houdini. Anna certainly has his talent. She is an expert illusionist. What no one knows is Anna actually has supernatural gifts.
Then a young man discovers Anna's abilities and introduces her to members of a secret society, who are eager to study her powers and help her learn the truth about herself.
Teri Brown is proud of her two children but coming in a close second is the fact that she parachuted out of a plane and beat the original Legend of Zelda video game.
She is a word scribbler, head banger, math hater, book reader, rule breaker, food fixer, novel writer, kitty keeper, and city slicker. Teri lives with her husband and way too many pets in Portland, Oregon. You can learn more on her website and follow her on Twitter.
Sounds great, doesn't it!?! This book releases on June 11, 2013 but the signed ARC and custom 1920's-style eye shadows could be yours! How do you get your hands on this great new release and makeup? Just fill out the Rafflecopter form below and see if you win! **Due to the high cost of shipping, the contest is only open to US and Canada addresses only.
Good luck!
a Rafflecopter giveaway